Lunch
$14.00
Each menu is priced at $14.00 per person (sales tax not included).
> 20 person minimum


Dinner
$16.00
Each menu is priced at $16.00 per person (sales tax not included).
> 20 person minimum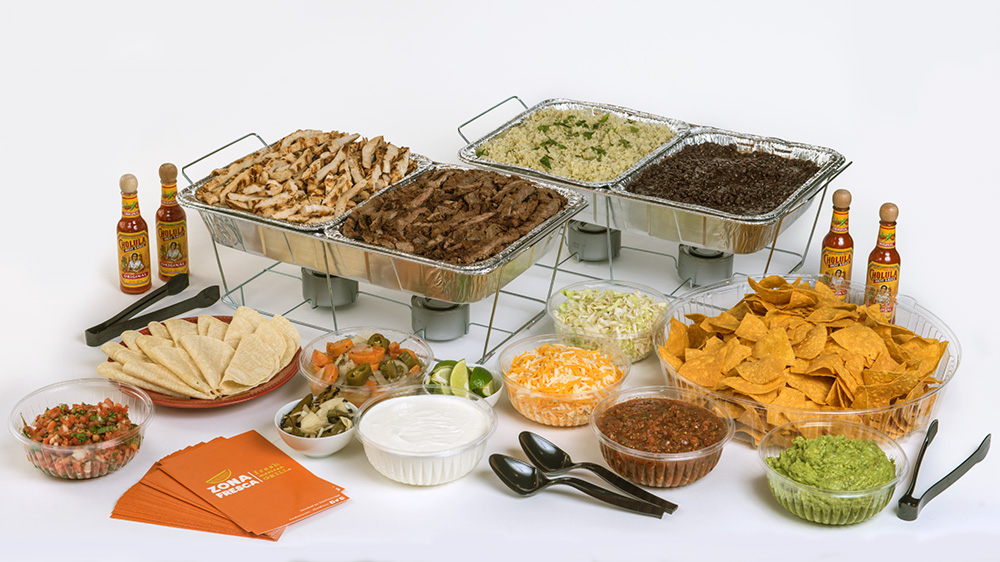 Menu #1
> Chicken Taquitos with guacamole and sour cream
> Assorted Quesadillas of chicken, steak, vegetarian and cheese
> Garden salad with side dressings
> Rice and black Beans
> Chips and salsa


Menu #2
> Mixed chicken and steak burritos served enchilada style
> Chicken taquitos with guacamole and sour cream
> Garden salad with side dressings
> Rice and black beans
> Chips and salsa


Menu #3
> Taco ranchero bar served buffet style with grilled chicken and steak.
> A condiment bar consisting of jack and cheddar cheese, shredded cabbage, guacamole, sour cream, jalapenos, pico de gallo, marinated serrano chilies, and fresh cut limes
> Corn tortillas
> Black beans and rice
> Chips and salsa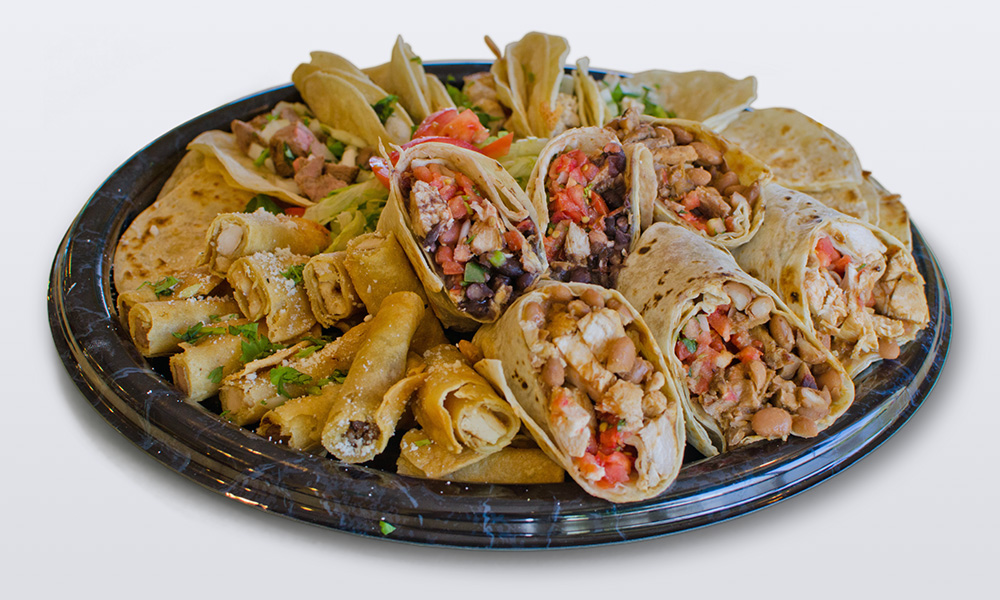 5-7 People
$70.00
(3) Burritos of chicken and steak
(4) Chicken taquitos
(4) Tacos of chicken and steak
(3) Mini cheese quesadillas
Salsa, sour cream, pico de gallo, guacamole, and chips


8-10 People
$95.00
(3) Burritos of chicken and steak
(6) Chicken taquitos
(6) Tacos of chicken and steak
(3) Mini cheese quesadillas
Salsa, sour cream, pico de gallo, guacamole, and chips


10-12 People
$115.00
(4) Burritos of chicken and steak
(8) Chicken taquitos
(8) Tacos of chicken and steak
(5) Mini cheese quesadillas
Salsa, sour cream, pico de gallo, guacamole, and chips


14-16 People
$145.00
(6) Burritos of chicken and steak
(12) Chicken taquitos
(10) Tacos of chicken and steak
(6) Mini cheese quesadillas
Salsa, sour cream, pico de gallo, guacamole, and chips


18-20 People
$185.00
(8) Burritos of chicken and steak
(16) Chicken taquitos
(14) Tacos of chicken and steak
(8) Mini cheese quesadillas
Salsa, sour cream, pico de gallo, guacamole, and chips


$11.00 Per Person (Minimum 5 People)
Choice of chicken, steak, or vegetarian burrito with rice, beans, cheese and pico de gallo. Boxed separately with chips, salsa, and a cookie.


Garden Salad
$3.25
Mixed lettuce, avocado, tomato, roasted corn, cotija cheese, with a lemony dressing on the side.
> 20 Person Minimum


1/2 Pan (3 Quarts) White or Brown Rice
$25.00
1/2 Pan (3 Quarts) Black or Pinto Beans
$25.00
1 Qt Salsa
$15.00
1 Qt Guacamole
$35.00
1 Gal Fiesta Fria Iced Tea
$12.00
1 Gal Agua Frescas
$20.00
Mango, Watermelon, Strawberry/Pineapple, Horchata, Lemonade




*Menu and prices subject to change without notice. Menu may vary slightly in different geographic areas.