Lunch
$13.50
Each menu is priced at $13.50 per person (sales tax not included). Price includes assorted beverages, cookies, ice, cups, and napkins. Delivery and set up fees may apply.
> 15 person minimum


Dinner
$13.50
Each menu is priced at $13.50 per person (sales tax not included). Price includes an extra helping of chicken and steak, napkins, plates, and utensils. Delivery and set up fees may apply.
> 15 person minimum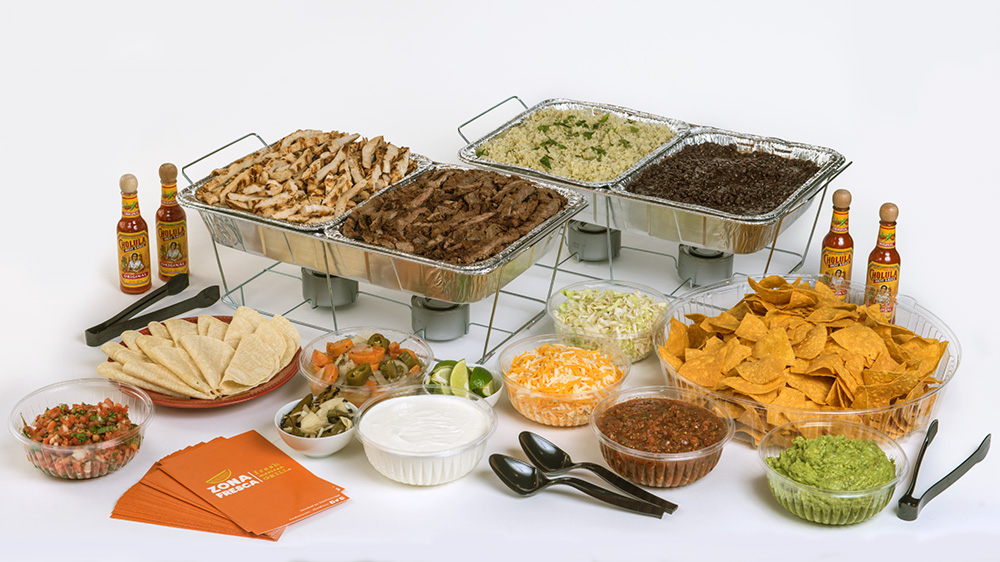 Menu #1
> Chicken Taquitos with guacamole and sour cream
> Assorted Quesadillas of chicken, steak, vegetarian and cheese
> Garden salad with side dressings
> Rice and black Beans
> Chips and salsa


Menu #2
> Mixed chicken and steak burritos served enchilada style
> Chicken taquitos with guacamole and sour cream
> Garden salad with side dressings
> Rice and black beans
> Chips and salsa


Menu #3
> Taco ranchero bar served buffet style with grilled chicken and steak.
> A condiment bar consisting of jack and cheddar cheese, shredded cabbage, guacamole, sour cream, jalapenos, and pico de gallo
> Corn tortillas
> Black beans and rice
> Chips and salsa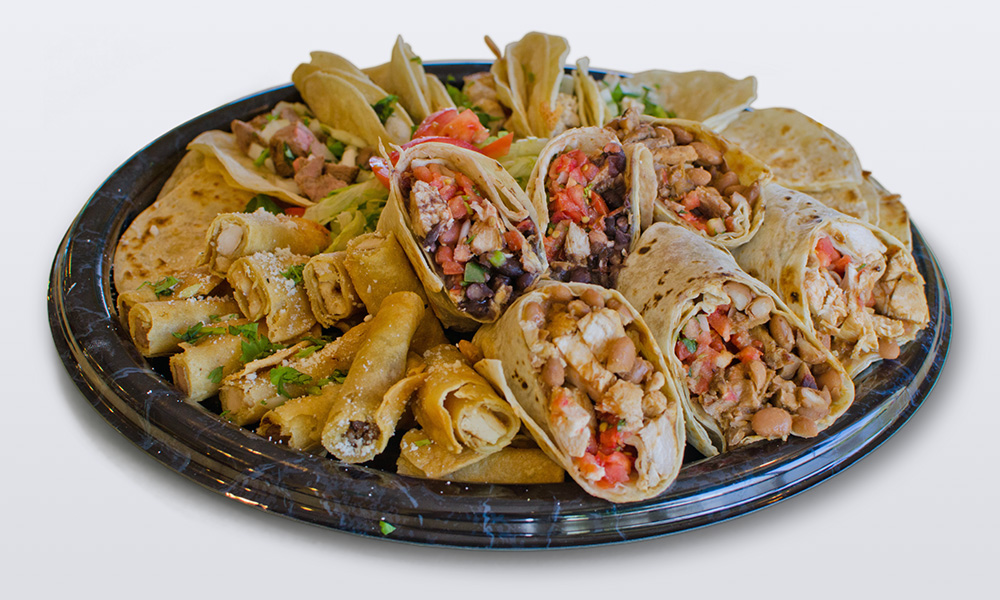 5-7 People
$85.00
(3) Burritos of chicken and steak
(6) Chicken taquitos
(6) Tacos of chicken and steak
(3) Mini cheese quesadillas
Salsa, sour cream, pico de gallo, guacamole, and chips


8-10 People
$115.00
(4) Burritos of chicken and steak
(8) Chicken taquitos
(8) Tacos of chicken and steak
(5) Mini cheese quesadillas
Salsa, sour cream, pico de gallo, guacamole, and chips


10-12 People
$140.00
(6) Burritos of chicken and steak
(12) Chicken taquitos
(10) Tacos of chicken and steak
(6) Mini cheese quesadillas
Salsa, sour cream, pico de gallo, guacamole, and chips


14-16 People
$185.00
(8) Burritos of chicken and steak
(16) Chicken taquitos
(14) Tacos of chicken and steak
(8) Mini cheese quesadillas
Salsa, sour cream, pico de gallo, guacamole, and chips


9.95 per person (minimum 8 people)
Choice of chicken, steak, or vegetarian burrito with rice, beans, cheese and pico de gallo. Boxed separately with chips, salsa, and a cookie.


Garden Salad
$1.95
Mixed lettuce, avocado, tomato, roasted corn, cotija cheese, with a lemony dressing on the side.
> 15 Person Minimum


3 Qts White or Brown Rice
$15.00
3 Qts Black or Pinto Beans
$15.00
1 Qt Salsa
$8.00
1 Qt Guacamole
$28.00
1 Gal Fiesta Fria ice tea
$11.00
Cholula Hot Sauce
$4.50


*Menu and prices subject to change without notice. Menu may vary slightly in different geographic areas.